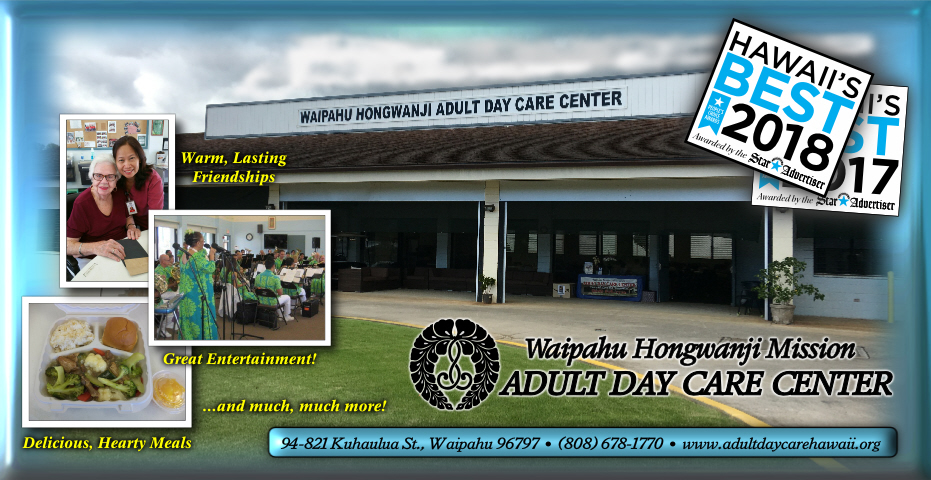 NOTICE
ADULT DAY CARE UPDATE:  RE-OPENING JUNE 16
Our Adult Day Care Center is set to re-open on Tuesday, June 16.  An email and letter has been sent to families regarding details of our new distancing policies and drop-off and pick-up procedures.  
Contact director, Alexa Olaivar,  at (808) 678-1770 if you have an questions.
In adherence to the State and City "Safer at Home" COVID-19 mandate extension, the adult day care will be closed through the month of May.  We hope to reopen soon as we implement plans to resume services under government safety guidelines.  We will contact client families when a reopening date is set.
For more information about the Adult Day Care Program, log on to:  www.adultdaycarehawaii.org
Hours of Operation
6:45 a.m. - 5:00 p.m. Monday - Friday
Contact:   Alexa Olaivar - Director   (808) 678-1770;   Fax:  1 (808) 678-1770    Email:   AWAIPAHUHONGWANJI@hawaii.rr.com Website:  http://www.adultdaycarehawaii.org
Fees:  Full Time: $1150.00 a month as           of Feb.  2016; Monday - Friday
             Part Time:   - $70:00 a day;                   two days a week minimum;
Fees include lunch and snacks;  A $25.00 non-refundable intake fee is required.
Goals and Objectives
to operate, without discrimination, a supervised adult day care program providing a safe, healthy environment with opportunities for social interaction, recreational activities, and mental stimulation.
to provide a service to families with older adults who need care and supervision while family members are working or need respite
to provide a variety of activities to meet the needs of the participants
Eligibility
any adult 55 years or older who is physically or mentally disabled meeting the criteria of an adult day care service
those living alone or remain at home unattended while family members or caregivers are at work
those in need of supervision and care during the day
those who need social and mental stimulations to delay/prevent institutionalization
must be ambulatory (with or without assistive devices)
must be able eat by themselves
cannot be combative or disruptive
is not prone to wandering (the facility is left opened and unlocked to provide a more welcoming and home-like environment)
Feel free to contact Waipahu Hongwanji Adult Day Care Center if you have any questions about the eligibility requirements.
Programs and Activities
planned to stimulate their minds, maintain and strengthen both their fine and gross motor skills and encourage social interactions.   These include:
exercises
music and singing
arts and crafts
games and memory joggers
intergenerational gatherings and reminiscing
special guests
excursions
About the Center and Staff
Located less than a mile from Waikele Shopping Center, this Adult Day Care Center is the first center statewide of the Honpa Hongwanji Mission.
The staff is comprised of a registered nurse, certified nurses, and/or activity aides experienced in working and dealing with the elderly in a compassionate, caring and professional manner.
The Waipahu Hongwanji Adult Day Care Center is licensed by the State of Hawaii - Department of Human Services and undergoes yearly inspections held by the State.
Daily Schedule
6:45 a.m.       Center Opens
6:45 - 9:00    Clients Arrival
9:00- 9:15  A.M. Snack
9:15 - 10:00   A.M. Exercise
10:00 - 11:00 A.M. Activity
11:00 - 1:00    Lunch/Rest
1:00 - 2:00     P.M. Exercise
2:00 - 2:30     P.M. Snack
2:30 - 3:30     P.M. Activity
3:30 - 5:00     Departing
5:00 P.M.        Center Closes